It is rather strange that in our country people realize the value of a thing only when foreigners say so despite the fact that our ancestors have proved its worth on the basis of...
हम में से बहुत से लोग वास्तव में योग करना चाहते हैं लेकिन समस्या ये है कि हमें ये नहीं पता की हमें कहाँ जाना चाहिए? समय क्या होगा? क्या कक्षाएं मेरे बजट में...
The beauty of the city which one can devour from the hillock of Karni Mata Temple is one of the many angles from which Udaipur is captured every day. I'd say this one is...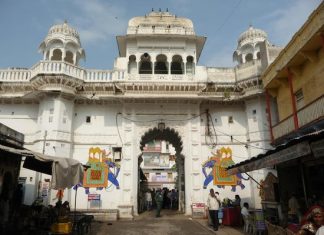 Nathdwara is famous for the popular temple of Lord Krishna or Shrinathji. Nathdwara 48km from Udaipur is a very popular pilgrimage centre for Gujaratis. It is said Krishna himself appeared in a dream to...
We can't forget the way we swayed on the music and the rustic voice of the band Swaraag in the ULF 2017. And why not! The band is just too awesome and lively that...
Places to Visit in Udaipur: