Did you miss the rush of adrenaline that comes with crazy, amazing, and most awaited parties? Did you think the unthinkable, that is to plan about celebrating with people during this pandemic?
When the temperature chills down to freeze the night, these New Year parties in Udaipur make the atmosphere hot and happening. If you have, then this New Year, you can act on those thoughts. Glam up yourselves, take out that sparkling personality with the outfit you couldn't find an occasion for and get ready to party.
We have put down this list of places for your reference, as to where you want to celebrate your New Year's.
TO GET UPDATES RELATED TO UDAIPUR ON WHATSAPP – CLICK HERE
New Year Party in Udaipur on 2021-2022
So, let's check out some of the Best New Year Parties in Udaipur to Welcome 2022!
Alsigarh Camping Festival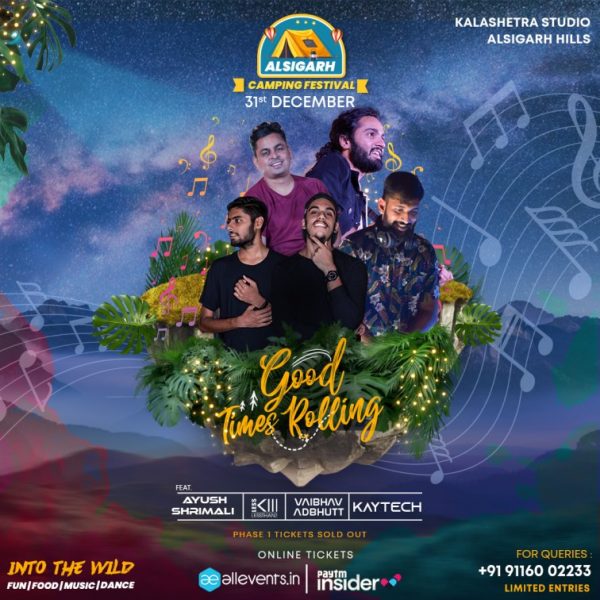 Why not camping as a celebration for New Year's? Spend the night under the starry sky and let yourselves relax with the beyond. Feel the soft touch of nature as you weave into your conversations, get mesmerized with the live music and D.J. sessions, fill yourselves up with appetizing food and varieties of drinks.
The gates for this wholesome campsite will open from 5:30 pm.
Couple (with stay):  Rs.6000/- (inclusive of event entry, tents stay, and food)
Couple (without a stay): Rs.4500/- (event entry + food)
Stag (with stay): Rs.3500/- (event entry + food + camp stay)
BOOK YOUR SLOTS NOW! LIMITED ENTRIES ONLY
Location- Kalashetra Studio, Alsigarh
Last Few Tickets Left – TO BOOK CLICK HERE
Mulberry Araliayas Resorts & Spa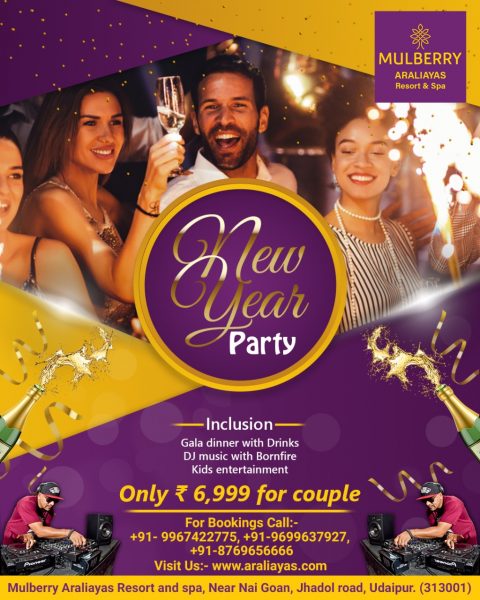 If you're looking to party this new year's eve in the countryside of the majestic city of lakes, then your stop is Mulberry Araliayas Resorts & Spa. Situated amidst the striking & scenic Aravalis, Araliayas provide a panoramic view & a breathtaking, submerging ambiance. This 31st night, relish scrumptious dine time with a DJ night, music, bonfire accompanied with kids entertainment facilities & so much more with your loved ones.  
Couple Entry Only: Rs.6999/-
Location – Mulberry Araliayas Resort & Spa, Near Nai Gaon, Jhadol Road, Udaipur 313001
For bookings & queries: +91-9967422775, +91-9699637927, +91-8769656666
Rolling Hills by Royal Retreat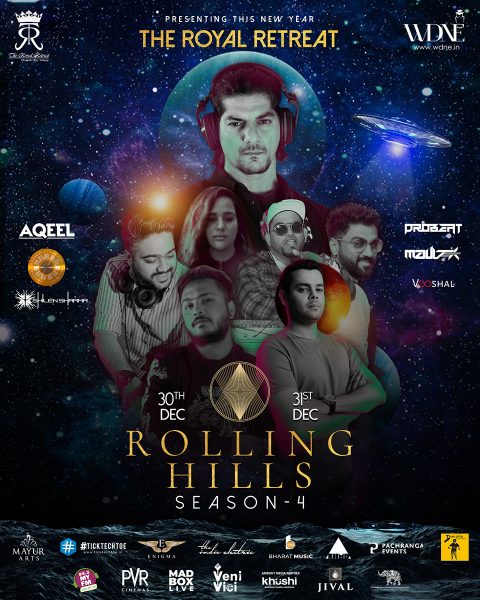 The Royal Retreat is back with their 4th season of 'Rolling Hills'. They are not just planning a Party, they are hosting their, two days long, remarkable Music Festival. Multiple artists from all over the country will be showcasing their fine music which is bound to fill your hearts with the intensity of expression. The Royal Retreat's New Year's elaborated Music Festival is dated to be on the 30th and 31st of December, following the lavish after-parties on both days. The explicitly premium celebration of the Royal Retreat is in all its way, most royal.
Now, to talk about the artist line-up, it will add more to your excitement. On 30th December, Radhika Upadhyay will be performing live with her beautiful band, followed by the after-party and performances by Probeat X Maultek. Performances on 30th December are for In-House (residents) guests only. 
On 31st December, the opening set will be delivered by skillfully gifted DJ JD and then the jewel artist is DJ Aqeel, the world's number one Bollywood Music DJ. He can be, with great delight, held responsible for the Bollywood DJ and remix art. Followed by the after-party and performances by Shilen Sharma and Veeshal. After parties are limited to In-House (Resident) guests only. Covid protocols will be strictly followed. 
Passes will include; Entry into the event, unlimited flavoursome buffet (50+ Dishes), unlimited premium beverages, and loads of entertainment.
Couples Pass: Rs.20,000/- + GST
Stag Pass: Rs.15,000/- + GST
Location- Badi Hawala Road, Udaipur
For bookings and queries: +91-7726008552
Vegas 69 Bar & Restro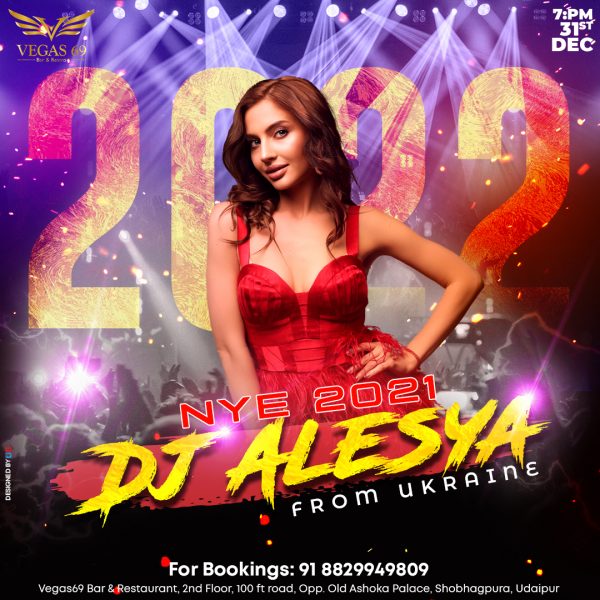 Another great New Year Party that's happening in Udaipur is at Vegas 69. DJ Alesya will be making the evening her own with her unique mixing style. It's the best place for you and your friends to let all loose in the hard beats of her music. With their glistening talent, Irfan Sheikh and Yash Sharma will perform live.
Entry details-
Couples – Rs.2500/-
Stag (Male) – Rs.2000/-
Stag (Female) – Rs.1500/-
Location- Second Floor, 21, 100 Feet Rd, Shobhagpura, Udaipur, Rajasthan 313001
For bookings and queries: +91-8829949809
Twist Lounge and Bar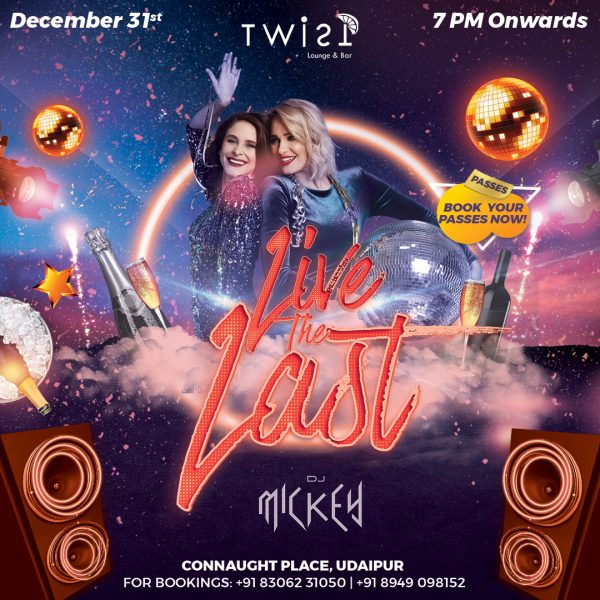 The twist is another happening place to spend your New year's Eve. 'Live the Last', their grand theme is exquisite. With 5 unlimited starters and a full course meal, Twist is hosting a party that will be exhilarating. When the clock strike at midnight, the party will be lightened with firecrackers. The party site will be adorned with beautiful decorations and picturesque backgrounds.
Entry details-
For girls – Rs.1500/- (2-pint beer)
For boys – Rs.2500/- (2-pint beer)
For a couple – Rs.3500/- (4-pint beer)
Location – Connaught Place, Shobhagpura, Udaipur, Rajasthan 313001
For bookings and queries: +91-8306231050
Desro Music Festival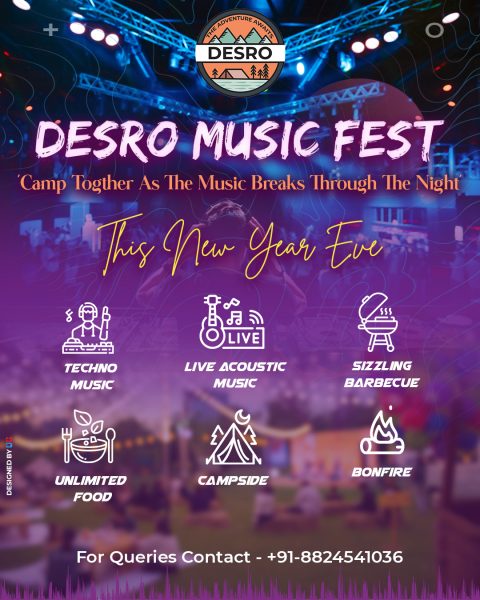 Music festivals carry with the flair of art. Not a moment passes by with dullness. It has all, from jumping up and down on the trippy music, to lodging down with a drink in your hand next to a warming bonfire. Enjoy your New Year's Eve by releasing your blues into the world. There will be techno music, live acoustic music, lakeside camps, unlimited food, sizzling barbeque, and a bonfire. 
Entry details-
Stag: Rs.3000/-
Couple: Rs.5000/- 
Location – Choti Madar Lake, Udaipur, Rajasthan
For bookings and queries: +91-8824541036
The Artist House
Let go of this year with an awesome celebration and let yourself relish the countdown at midnight at The Artist House. With the rustic and aesthetic interiors of the restaurant, revel in great food and beverages. There will be mesmerizing music for you to get lost in.
Location: Near, Ashoka Cinema Rd, Thakre Baba Colony, Suraj Pole, Nada Khada, Udaipur, Rajasthan 313001
Timings: 9 PM onwards
Vijay Villa Resort
Vijay Villa Resort is offering stunning packages, this New Year. Enjoyment will be at its peak with dance, music, and happiness.
Location: Vijay villa resort near toll Naka Jaisamand road Udaipur
Time: 7:00 PM onwards